April 4, 2023
Posted by:

admin

Category:

Blog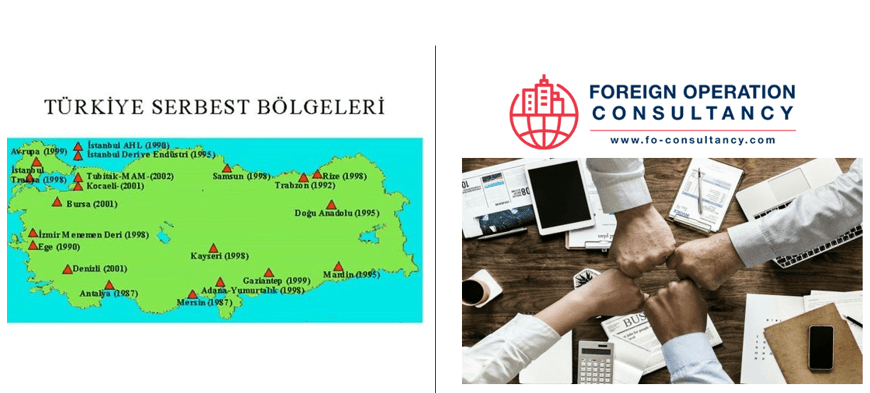 Trading is significant in Turkey, particularly in the import and export sectors. One of the primary factors promoting business investment, company formation in Turkey, and other commercial activities that benefit from free zone facilities and incentives is the existence of Turkish free zones. This article is focused on introducing you to free zones of Turkey of their significance.
Turkey's Free Zone
Free zones are specific locations within a country that are considered to be outside the customs domain. Another definition of a free zone is a fenced-in area where the operational users are given preferential regulatory treatment to encourage exports of products and services with company establishment in Turkey.
In order to improve trade volume and export for certain industrial and commercial operations, free zones provide a more flexible and adaptable business environment than the rest of the nation. 18 free zones have started operating since 1985 to boost and support export-oriented investment and production.
How Many Free Trade Zones Are There In Turkey?
A Turkish Free Trade Zone aims to increase export-oriented investment and manufacturing in Turkey while speeding up the inflow of foreign money and technology. Improving productivity, scale economies, and expanding the use of external financial resources and trade opportunities.
Free Trade Zones are considered foreign territories even though they are located entirely within the Republic of Turkey. Free Trade Zones are subject to some national restrictions in the financial, economic, and corporate fields. In 2022, the yearly trade volume of Turkey's 18 free trade zones reached more than $ 23 billion.
Turkey now has 18 free zones, and they are as follows:
Antalya Free Zone in Antalya
Mersin Free Zone in Mersin
Aegean Free Zone in Gaziemir/İzmir
İstanbul Atatürk Airport Free Zone in Havalimanı/İstanbul
Trabzon Free Zone in Limaniçi/Trabzon
İstanbul Thrace Free Zone inÇatalca/İstanbul
Adana-Yumurtalık Free Zone in Ceyhan/Adana
İstanbul Industry and Trade Free Zone in Tuzla/İstanbul
Samsun Free Zone in Limaniçi/Samsun
Europe Free Zone in Çorlu/Tekirdağ
Rize Free Zone in Rize
Kayseri Free Zone in Kayseri
İzmir Free Zone in Menemen/İzmir
Gaziantep Free Zone in Çakmak/Gaziantep
TÜBİTAK MRC Free Zone in Gebze/Kocaeli
Denizli Free Zone in Çardak/Denizli
Bursa Free Zone in Gemlik/Bursa
Kocaeli Free Zone in İzmit/Kocaeli
Objectives Of Turkey's Free Zones
The following are some of the reasons why Turkey should establish free zones:
Encouraging production and investment to expand Turkish exports abroad and develop the export market
Encouraging Turkish businesses to export
Ensuring the supply of services and cutting-edge technology to Turkey
Increase the pace of drawing in foreign direct investment
Improving the environment for foreign trade
Save money, time, and effort when conducting business
Creating new employment opportunities
Free Zone Activities In Turkey
In general, any type of activity is permissible in Turkish Free Zones, including:
Manufacturing
Software
Research and Development (R&D)
General trading
Packing
Storing
Assembly and disassembly
Maintenance services
Banking and insurance
Investors are free to build their own facilities, and zones also provide office or warehouse space for rent under favourable terms. Foreign corporations can partner with Turkish companies in any activity area that is open to them.
Running or opening a free zone company in Turkey can be challenging; therefore, working with a consultancy with knowledge and experience in the field is a wise choice. Take advantage of the perks you receive and take pleasure in conducting business in the prosperous nation of Turkey.